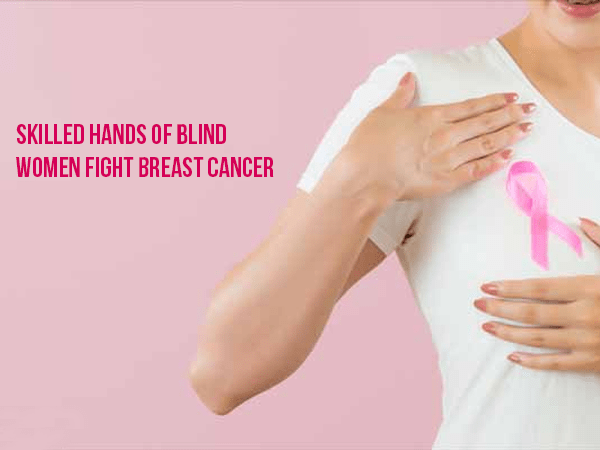 The Discovering Hands Project is the perfect example of realizing importance of human resources in efficient healthcare systems. This project uses the skilled hands of blind women to detect breast cancer and its stages.  
(Ms. Shalini Khanna, Director-NAB Centre for Blind Women and Disability Studies, and the person behind the Discovering Hands project in India was interviewed by:
Maitreya Shah, a law student and disability rights activist from Gujarat in conversation with Shalini Khanna on behalf of the OoWomaniya team.
The Discovering Hands Project
MS: Please tell us about the work you're doing at NAB centre for blind women.
SK: The National Association for Blind (NAB) Centre for Blind Women and Disability Studies is ancentre based out of Delhi, focusing on the training, development and rehabilitation of blind women. It also serves as a centre for study and research in the field of disability. Although the centre has been focusing on the empowerment and rehabilitation of blind women through various activities, some of its projects in the rural areas have also seen blind men registering for employment related projects. The Discovering Hands project is also a part of the centre's efforts of providing skill-based employment to blind girls.
MS: Coming to the topic of this discussion, how did you get this idea of blind girls detecting breast cancer?
SK: In 2016, I was approached by an organization called Disha Foundation with the idea. We had a successful model from Germany to look up to. To understand about the idea in depth, I travelled to Germany with Dr. Kanchan Kaur, one of the senior doctors at Medanta. Until our first-hand experience at one of the hospitals in Germany, even Dr. Kanchan was hesitant about the entire concept. Our experience in Germany however convinced us so much, so that we decided to adopt it in India.
MS: So how does the technique work?
SK: Blind women are trained to locate lumps in the breasts with the help of a tactile strip (scale with braille dots) and their hands! The breasts are divided into zones, and the tactile strips help the girls measure the areas. By this technique, these girls can locate lumps as small as 5 mm in size. Whereas, figures for mammographic detection range in centimeters.
MS: How beneficial is this technique for the examinees?
SK: Today, research has proven the harmful effects of mammography and the radiations involved in the process. Countries like Switzerland have already banned mammography screening. As the discovering hands technique has no use of machines at all, there is no risk associated with it.
Moreover, I've seen numerous women avoiding breast examination due to the fear of mammographic screening. In our country specifically, the discovering hands is also an affordable solution compared to the costly mammographic screening. Thus, the advantages are endless.
MS: Is this technique approved by any medical association?
SK: As far as Germany is concerned, this technique is approved by the medical and rehabilitation councils of the country and is certified too. In India, the consultation process is underway with medical boards and disability councils for its approval.
MS: How lucrative is this career for the blind girls seeking skill-based employment?
SK: In western countries, this technique has already proven its potential. In India, the first batch of girls at our centre is now interning with Medanta and will be out soon. This I would say is an excellent opportunity for blind girls seeking skill-based employment.  Girls with a relatively good IQ, understanding of science related concepts and a command over English (which can also be achieved through training) can join the workforce. This employment opportunity is also useful in providing these girls with mainstream employment. They get a professional tag and are called 'Medical Tactile Examiners'.
MS: Considering that the technique developed in the western nations, what are the India-specific adaptability issues?
SK: Tactile examination of breasts is a form of alternative medical procedure. It faces the similar challenges as other alternative medicines. Countries like Japan or Germany has a major part of population preferring alternative medical procedures over machines. In Germany especially, mammography is only administered to women aged 45 or above. Thus, women below this age-threshold are left unexamined. The discovering hands proved to be an effective solution there.
In India, the lack of infrastructure has created a gap with the rural areas, which make the rural women vulnerable to un-detected cancer at advanced stages. We do have a lot of human resource in the country, which can be used to reach out to these women.  I'm sure India too has a specific population preferring alternative medicine and will expand the horizons for this technique.
Conclusion
Where persons with disabilities are considered a burden on the society, this technique actually proves their potential as important assets for the society. Breast cancer, one of the most prevalent forms of cancers, scares almost every woman today. Even larger fear is that of the medical procedures associated with it. A technique that provides women with a comfortable atmosphere, in the hands of other women like them would surely be more lucrative.
This technique thus stops 2 gaps with one bush. It helps in breast cancer detection without the use of machines; and it generates employment for the blind women in the country.
Symptoms of Breast Cancer as explained by Dr. Shefali Desai, Breast Cancer Specialist & Surgeon
Comments
comments