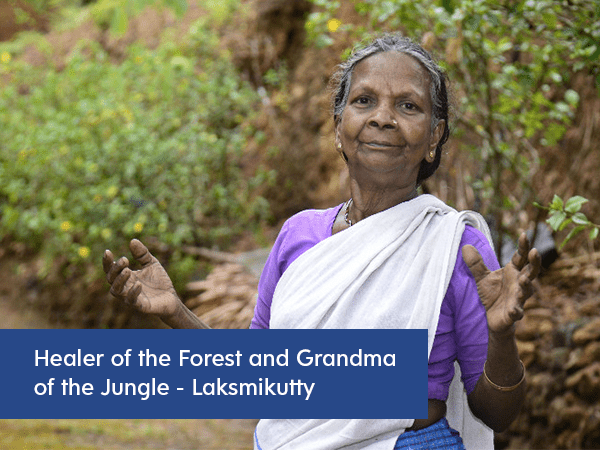 Tons of people flock to the district of Thiruvananthapuram to procure the medicinal herbs made by Laksmikutty. She heals people through nature.
She resides in a small cottage made of palm leaves in a tribal settlement, deep in the woods of Kallar in Thiruvananthapuram district.
Warmly known as the 'Grandmother of the Jungle', she soothes her patients with not only her herbal treatment, but through her enchanting and kind words. Her little hut is surrounded by herbal plants and medicines.
This 75 year old tribal woman has gained knowledge of 500 medicines through experience and old memory of her mother's passed down discourses. The Kerala Forest Department has decided to compile her study into a book and publish it. Her work will become immortal in this way and many will gain from her expertise.
Her dream is to reconstruct her hut into a small hospital for patients seeking long-term treatment.  She has delivered lectures in many institutions across India and visited many places outside her village but prefers to stay in her own jungle, since she believes she belongs there. After all, we belong where we are loved!
People usually come to her for the treatment of snake bites or insect bites. Villagers refer to her as 'Vanamuthassi' , which means 'Grandmother of the forest'. Our grandmother used to heal us from all our wounds, wouldn't she? Laksmikutty plays a similar role, telling stories, giving lectures, narrating poems and healing wounds.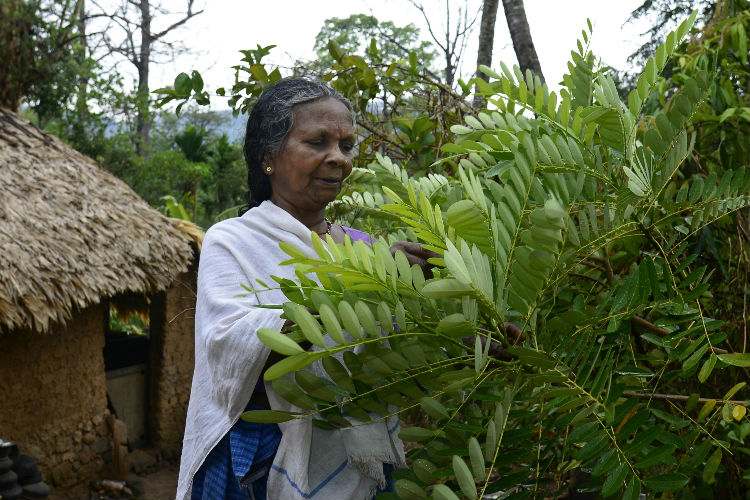 Her contribution towards the welfare of the villagers started gaining her recognition from the village as well as outside. She was awarded the 'Naattu Vaidya Rathna' (award for naturopathy) from the government of Kerela for her noble work. Before she received the award, people used to come to her from far-off places by word of mouth from her former patients. But once she gained prominence through the award, people started flocking at her hut in huge numbers and she was as always, happy to help. She received many awards post that, with the most recent from The Indian Biodiversity Congress in 2016.
Laksmikutty was the first tribal girl from her village to receive formal education. She was determined to go to a school and her father had to concede to her wishes. She used to walk 10 kilometers everyday to school. However, she could study till 8th grade only since her school didn't have higher education. She used to go along with two boys from her area. One of the boys, was her cousin, Mathan kaani, who she developed a deep bond with, which later advanced into a marriage. He was her strongest moral support and always stood for her and her dreams. She misses him tremendously, and knows that he is watching her from the above.
Coming from a tribal background, Laksmikutty didn't want her children to suffer the same ordeal as she did. She ensured that her children receive access to good schooling and formal education. But life wasn't easy on her in the least sense. She lost her elder son to an elephant attack and her younger son in an accident. The other son works with the railways.


Apart from the world of naturopathy, Laksmikutty has contributed immensely in the field of writing. Her articles on tribal culture and forests have been published in DC books. Her poems are easy to understand and not dialectic, and hence easy to understand and recite.
In spite of all her achievements, the 75 year old stays grounded in her hut and believes that you need courage in order to stay true to yourself.
Comments
comments