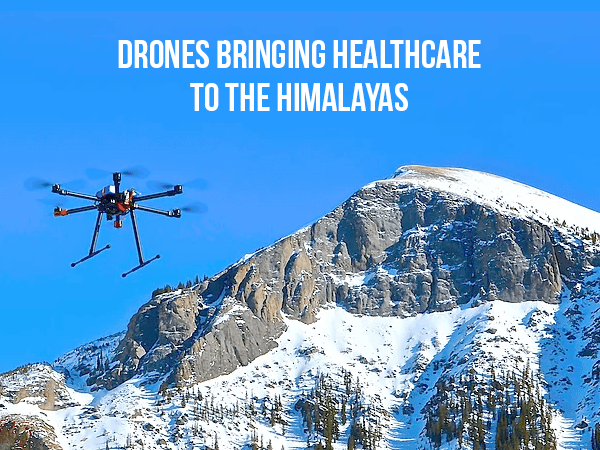 Thousands of people living in remote areas of  Nepal have no access to healthcare facilities, and many of those people must therefore walk or be carried long distances if they become sick or injured. As of today, Nepal has about 2,600 doctors—that is less than 1 doctor for every 10,000 people, and many of the urgent treatment facilities lack basic medicine and supplies since deliveries of these items often takes months.
When Nepali labourer, Om Bahadur Purja sprained his leg in his remote village he would have faced a four-hour trek to the nearest medical centre – but for a pioneering scheme to bring healthcare to the Himalayas. Yes, progress in healthcare technology is solving problems for healthcare delivery in geographically and economically remote locations. And it is just getting started.
Instead, the 60-year-old father of three received the treatment he needed in his home village thanks to the recent arrival of a drone carrying basic medicines and equipment.

"This saved me a lot of trouble, time and money," Purja told the Thomson Reuters Foundation from Ramche, a Himalayan village 250 km (150 miles) northwest of the Nepali capital Kathmandu.
Former teacher, Mahabir Pun, developed a scheme to connect remote villages to the Internet, and, subsequently used his non-profit National Innovation Centre (NIC) has developed Nepal's first "medical drone" to bring health care to remote communities. These medical drones carry samples of blood and other fluids to laboratories for tests and can also deliver supplies. However, presently, the medical drone can only carry a one kilogram (or two pound) payload for about two kilometers (or 1.2 miles).
Pun's team is working on improving that range and weight capacity. The internet connection was an important lifeline for villages with no road access or cell phone reception, and this new medical drone is certainly another important lifeline. Of course, this project is slightly limited by Nepal's regulations on drone use, but Pun is working with the country's officials to make his project a success.
Comments
comments