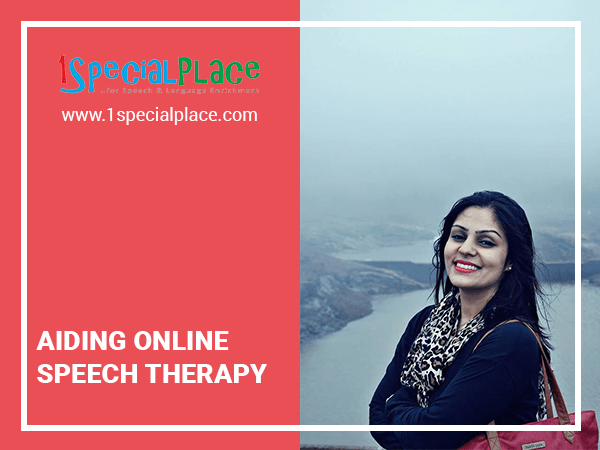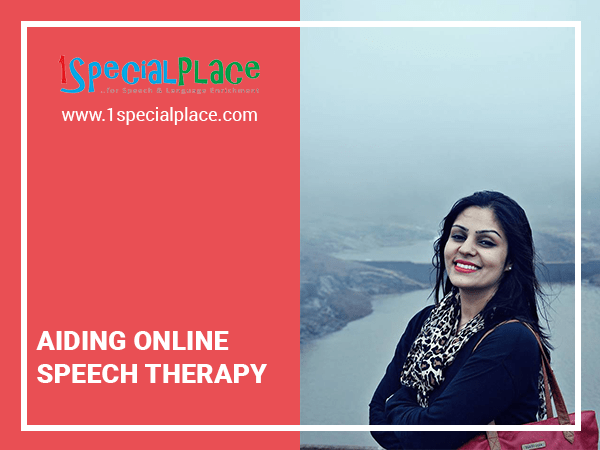 Hi Pratiksha, would you like to share something about yourself?

Hi! I'm Pratiksha Gupta, MSc. ( London). I'm a seasoned Speech Language Therapist cum Audiologist practising since 2007. I have worked in a variety of platforms including hospitals in NHS -UK,  Apollo Hospitals – India, Early Intervention Centres, Government Resource Centres and IB School – Delhi NCR, I am the Founder and Director of 1SpecialPlace, India's first Online Speech Therapy Portal. I enjoy working with children and train Speech Therapists and Educators in the areas of early learning and development of Speech and Language Skills.
Im on the panel of various professional online parenting portals.Im the author of a series of India's first Story Books for children that promote speech development.  I indulge in Art Based Speech Therapy and I am also a resource designer by hobby. I have also developed mobile apps for speech assessment and therapy and specialised tool kits for children.
2. Tell us something about your venture, 1SpecialPlace
1SpecialPlace ( www.1specialplace.com) is India's first online platform which caters to individuals with speech, language and cognitive difficulties. It enables easy to access products and services to detect, diagnose and treat speech disorders and deviances. With our mobile apps, online speech therapy programs, live webinars and a content rich blog we offer simple and wholesome solutions for children, adults and the elderly.
Our popular App called Speech Doctor is a simple tool which any parent can use to check if their child has a delay or not. The app has been reviewed and recommended even by leading foreign organisations.
1SpecialPlace was launched in 2014 by a team of co-founders including Pratiksha Gupta ( CEO) and other masterminds from IT industry ( of the fame of IIT and DCE) and experienced MBAs.
1SpecialPlace started offering online therapy services in 2015 fag end and doubled the number of sessions conducted in 2017. Our primary client base comprises of parents of young children of Indian origin living abroad or in India, who don't have access to quality therapy services in their region. We also offer therapy to adults who have been dealing with speech problems since childhood.
1SpecialPlace has ensured work from home opportunities for many professional women(doctors and therapists)  who are unable to pursue career due to family and personal constraints. This is another victory which we are proud of.
 3. How grave do you think, the problem of child speech and cognition development is in India?
The last Census (2011), showed that 1.24% of the total children (0-6 years) in India are disabled. Out of which, 7 % children have Speech difficulties, 10 % have Cognitive difficulties and 7 % are multiple disabled. These numbers show the astounding figure that almost 1 in every 10 -12 school going children can have a speech or cognitive difficulty. Most speech difficulties can be alleviated by early intervention and professional treatment provided at the right time.
4. Which are the major diseases/symptoms due to which normal child speech development is hindered?
There are many conditions which can cause Speech difficulties in children. Hearing loss, Cerebral Palsy, Mental Retardation, Autism Spectrum Disorders, ADHD ( Attention Deficit Hyperactive Disorder),  Apraxia, Cleft Lip/Palate, Stuttering and some Syndromes form the top few developmental conditions which result in Speech and Language deviances and disorders.
5. What are the various strategies that you employ in your therapies to make sure a child comes on track with basic development and understanding?
Early years form the most crucial phase in a child's life. With younger children I indulge in Play based Speech Language therapy. I work on improving the interaction and communication of the child and the parent. With older kids, its important to focus on their strengths and conquer their weak spots. Children might have poor listening and understanding skills because of which they don't speak or communicate as effectively. Or they may have oral motor weaknesses. My goal is to improve the focal point of the problem and then I use scaffolding. Some simple strategies that come handy while helping children communicate better are Repetition, Imitation, Language Expansion, Narrative and Parallel talking, Social Interaction and Play, Building joint attention and concentration span, Adding structure and many more.
6. How do you deal with parents of children with speech and cognition issues?
Parents have the most important contribution in a child's speech and cognitive development. Both a parent and a child have intertwining roles in the process of language acquisition. I help parents understand their role. I motivate them to become facilitators in their child's journey. Parents need counseling at all times. They are most vulnerable to stress when they see their child not developing naturally. As a professional I try to strike a cord with a parent by understanding what issue concerns them the most. I offer advice from evidence based examples and real world learning which I have gathered over the many years of my service with children. I am a parent and I can empathise with fellow parents well.
7. What advice would you give to parents of children irrespective of whether their kids have any developmental or neurological issue or not?
I meet many parents on a daily basis. The most important advice I give to everyone is not to wait and watch if you suspect that your child has a problem. Its always best to seek help. There are solutions available. Specially the early years of children's lives lay down the foundation of their future life, so a parent should pay heed to the importance of early intervention.
I also tell everyone to have great expectations. By that I don't mean setting unrealistic expectations and overburdening children with your own desires. But I promote having appropriate expectations from children. So be it a parent of a child with developmental difficulties or the parent of a neurotypical child, if you set high standards and describe expectations clearly its likely that your child will strive to achieve them. Its also preferable to shoot for the long term but focus on short term goals. Parents must remember to celebrate and recognize successes along their journey. They should help their children learn from failures and should be willing to adjust for changing circumstances.
8. What is your vision related to 1SpecialPlace?

1SpecialPlace is expanding well. I envisage to build a better team, a more refined ecosystem with which we can march proudly ahead. With the power of Telepractice/Online Therapy we wish to reach more children and families who are unable to get speech therapy and allied services in their localities. In months to come we want to hold bigger awareness campaigns for various disorders in children so as to gather support and acceptance in the community. We want to continue to empower mothers who are their children's first teachers.
Comments