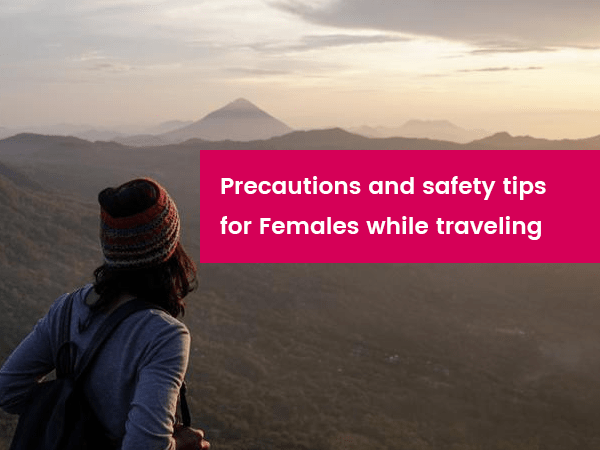 Plan your trip in advance and research the place that you're visiting properly
Book your train, plane or bus tickets and accommodation in advance. Surprises are good. But surety is even better and secure especially when you are traveling alone. Use google to your advantage and research the city, the location where you plan to stay or move around for work or leisure.
Keep your valuables and expensive belongings as close or secure as possible
Have your passport, travel documents, photo ids, cash, cards, wallet in a pouch, bag or a folder close to you or when not required you can put it in a locker of your hotel or hostel room or keep them safe in your suitcase with a lock to avoid theft or losing them.
Always carry a medical kit (First-aid kit)
One of the practices that are often overlooked while traveling is carrying a first-aid kit or some common medicines. I am not talking about self medication here. Your medical kit for travel should include –
Few bandages, antiseptic ointment, cotton, dettol or similar antiseptic wash, white bandage for dressing – for scrapes, small injuries to keep infection in check
Crepe bandage and spray or ointment for sprains and muscle injuries
Vaporizing rub and cough/cold syrup
Allegra or any anti-allergen – that your doctor may have prescribed before
Painkiller, paracetamol tablet – that your doctor may have prescribed before
Please note these medicines are just for emergencies and quick fixes when you are traveling for yourself or for your co-travelers. Visit the nearest doctor to the soonest if you face any health problem. Ask hotel staff or locals to point at the closest and safest medical help.
Travel LIGHT
We are always excited during holidays and trips to dress our best and try out those outfits which we don't get to wear during our routine. But traveling light makes it easier to move around and also less belongings to worry about. If your itinerary is planned it helps you in choosing what to carry and what is not essential.
Check out these tips on how to pack light.

Handle your booze
It is great to let your hair loose while holidaying and traveling but it is better to have control on amount of alcohol you drink especially when you drink outside your hotel premises and you are traveling alone. Alcohol in excess amounts can impair your judgment.
Safety Apps for SOS on your phone
There are many safety apps available on playstore (Android) and app store (iOS) phones where female travelers can notify your family members and nearby law authorities for help if you feel threatened from someone in terms of violent attack or an assault. Get yourself help immediately. Pepper sprays work as well while on streets but of course you can't travel on plane with these things.
Check out some safety apps available that you can use.
Comments
comments