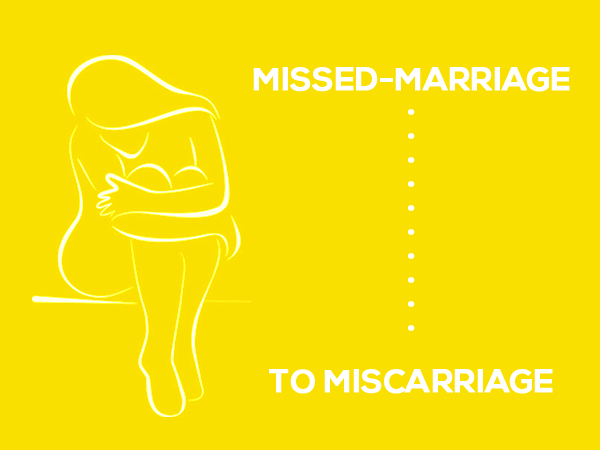 "I suppose that's good news"
"Oh. Well."
These were the reactions to my reluctant disclosure to two important people in my life that I had a miscarriage a few days ago. I am not married, and I am 25 years old. I live with my family in India. The pregnancy was not planned, but then again, from what I know of my married friends, most pregnancies are not. It came as a surprise which I was pretty much sure would happen as I had an intercourse on the first day of my periods and later on took the "i-pill" as most of us do. But somewhere deep within me I knew the pill wouldn't work considering my biological condition and it sure didn't.
I had exactly two days to take in the fact that I was pregnant. I'd noticed the changes in my body over that brief period, and I saw them this time as well. Knowing I was pregnant changed things for me, granted that I had taken a pill to avoid this situation. But it's different from taking an abortion pill. I didn't actively want the pregnancy.
It was a beautiful love story between me and my boyfriend and I can never forget those memories that started with a kiss on 10th February 2013 when he came to pick me up from one party and we went for a ride. I still remember that freezing cold night around 11pm he took me to some dark place where he proposed to me and suddenly without thinking anything I said YES.

And this is how our journey began.
I always wanted to be a princess and he always treated me that way. I was on cloud 9 as our bonding was increasing more and more after so many ups and downs. I used to make so many handmade gifts for him and his one smile made my all efforts worth it. He was my world my life. I have learnt so many things from him – he used to be my mentor.
But our happiness was short lived when his parents came to know about us. India, unlike most of the western countries is NOT SO COOL on the concept of love marriages. Still, majority of us marry based on the choices of our parents, their ideas of castes and religion. So following the regular ritual, we tried convincing his parents which proved fruitless.
We initially tried to end the relation but were not able to do it. We thought to be good friends but even that was getting difficult. We loved each other and that was a fact. That day when we made out was one such fateful day where we could not control our emotions and it all went with the flow.
But soon after that day he became more reluctant on the break up part. He decided that it was the time to stop talking completely considering the dark future we had.  And it went that way, we stopped talking and we had an official break up.
After our break up I came to know that I have missed my period's date and that were the first bells of suspicion ringing in my ears. "I might be pregnant" were my bizarre thoughts.  I took a home pregnancy test and it turned negative but a further more research on internet told me that it does come negative in the initial phases and are not 100% reliable. Within one week I was an expert on this subject after sitting on Google for 5-6 hours a day reading every possible thing on the subject. I was deeply tensed.
Then I went to Mumbai for my work and there I felt slightly dizzy and mild discomfort and that was the time I knew what was happening. I also knew that there was nothing I could do to stop it. I was in office. I asked a co-worker to go buy me some sanitary napkins. I thought I was having a miscarriage. I know I was thinking stupid but it was inner feeling as I could feel something going out of my body.
The reactions of the two people I took into confidence were in stark contrast to the outpouring of grief I see for my married friends who report their miscarriages. Theirs is not a hesitating stutter of revelation, like mine. They post their grief on Facebook, and get encouraging messages of support and crying emojis. They are celebrated for their resilience. Everyone gives them suggestions that – "do this, do that and please be happy." They advise her husband to keep her happy so she can come out of the pain of a losing a child. She would need much love and caring.
Then why these things are not for an unmarried girl?
Why reactions of all change for an unmarried girl?
I had to inform my partner over the SMS due to the fear of being overheard, and I knew I wouldn't be able to say the words without bursting into tears. I messaged him a month later and I told him about my situation and to my horror I got a reaction that clearly suggested that he didn't believe me. He thought I am doing all of this to get his attention.
Let me tell you something, whether married or unmarried, the pain of missing a child is unbearable.
After my Mumbai trip, I got myself checked by a gynecologist and she did confirm the pregnancy. Also due to the pills I had taken without doctor's prescription, I suffered from massive internal infection. The mental and physical stress killed my baby even before I could abort it or maybe I wouldn't have done that and might have kept the child. My thoughts were too shady in the initial phases but before I could come to a decision, the baby was gone.
I texted him all of these and surprisingly I got a reply from him "Please take care of yourself"
THAT'S IT! A fucking "Take Care" is not what I expected. While curing myself without telling my family about it, I had to undergo severe medical processes and different ways of taking medications. One of which was inserting a tablet in my vagina. Can you imagine how painful that is? And I can never forget this depression after taking pills and to suffer alone from all this mental and physical pain.
After this episode, I can say confidently that there is no humanity left in this world.
How can someone react so irresponsibly? Or probably it would be very difficult for me to trust a BOY again in my life. I have no clue how long would that take but it's surely gonna take long enough before I completely heal myself mentally and emotionally.
The "Congratulations?" was the second response, from a best friend. I called and told her about everything and I knew. She did not have words to speak. But she swung in favor of the positive and helped me fight my despair situation.
One suggestion for all you guys and girls who are in "in love with them and trust their love" – If you cannot be with her on her birthday – that's ok. If you cannot be with her on your anniversary or if u cannot remember the dates even that is acceptable!
Don't meet her every day if you won't be able to give her your precious time, that's ok for her she will understand everything.
BUT just be with her when she is suffering from this pain just because of you.
These are one of the most crucial times for her and I wish no other girl suffer from this pain.
It's very easy to hear that she had a miscarriage but it's a dying moment for that girl who suffers this all alone.
I'm clearly not anti-abortion, by any means. But all I want to say is this: when a woman tells you that she has had a spontaneous abortion, a miscarriage, whatever – don't congratulate her. Don't say anything at all. Nothing you say can take away the violence her body has just undergone during  this very painful process, irrespective of whether it was something she chose or not.
So just offer your empathy and spare her from associating the desirability of the situation due to her marital status. That's her business, not yours
Yours Loving
Anna (Name changed)
Contributed by Kruti Mehta. This story was sent to us by Kruti. The story was originally posted anonymously by one of the readers of Kruti's blog
Kruti's take on the story
After reading this I had no words. I no longer believed in the idea of soul mates, or love at first sight. But I was beginning to believe that a very few times in your life, if you were lucky, you might meet someone who was exactly right for you. Not because he was perfect, or because you were, but because your combined flaws were arranged in a way that allowed two separate beings to hinge together.
Comments
comments