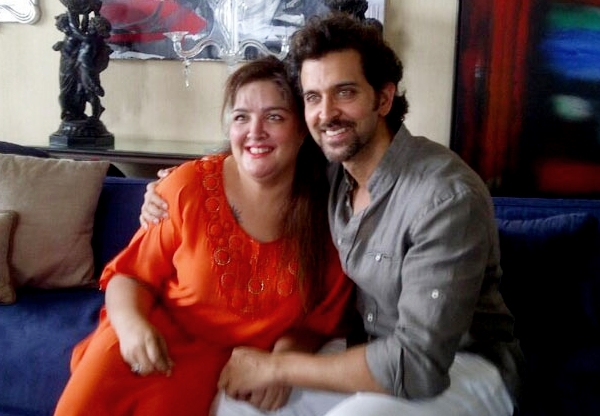 Recently, Hrithik Roshan's sister Sunaina Roshan launched her book called "To Dad, With Love", a dedication Sunaina has made to her father Mr. Rakesh Roshan.
Hrithik in an elated mood in this event praised his sister, saying – "I am so proud and blessed to have a sister like my 'didi'. I've seen her battle through challenges, and gain victory over things that could devastate any of us. My sister is the bravest person on earth. "
Sunaina Roshan , a star sister, a star daughter but there is much more to this Woman, a person of  stupendous strength and courage.
She's going strong with her life passing by two failed marriages and a victory over cervical cancer. Recently, she has been chosen as one of the top 11 inspirational stories since 1984, in Savvy's 'I believe' Collector's Edition'. She received this honour for bravely fighting through cervical cancer. Cervical cancer is one of the leading women's health problem in India.
Here's the story of Sunaina Roshan's ordeal against cancer.
When she was bleeding heavily, she first thought she was having problem with her periods. But her mother insisted her to consult a gynaecologist as soon as possible. Had she not visited a gynecologist, the cancer would have spread in other areas to become incurable.


She had just completed her Pap smear test, and was busy in production of 'Krazzy four' in Khandala. There she got a call from Susanne Roshan saying that doctors found 'something serious' in her tests. Her oncologist told her that it could be cancer. With her biopsy, it was proved that she had cervical cancer. Within two days of the diagnosis, she underwent her first chemotherapy treatment.
She used to lock herself in her room and cry for hours. That used to make her feel better, and there forth she decided to remain strong for the sake of her family.
Her worst challenge was the time when she had to shave off her hair. Her hair had started falling heavily due to the harshness of chemotherapy. She would avoid to look at herself in the mirror and get depressed every day, so she decided to shave off her hair head in a single go. Her daughter was very supportive of her during this phase.
Because of the in-time treatment and her positive approach for life, Sunaina Roshan is now out of the danger zone of cancer. She learned to deal with pain with a smile.  An advice from her to all the womaniyas out there:
"Women should go for regular health check-ups. You have to be aware of what's going on in your body. So many women suffer from breast and cervical cancer and similar female reproductive diseases, and the more you prolong it or avoid it, the worse it gets."
Do you know any other Womaniya who has spelt courage by fighting through any life-threatening or physically challenging disease?? Are you a Survivor yourself??
Share your stories of exceptional courage with OoWomaniya and inspire thousands of women all across!  🙂
Comments
comments