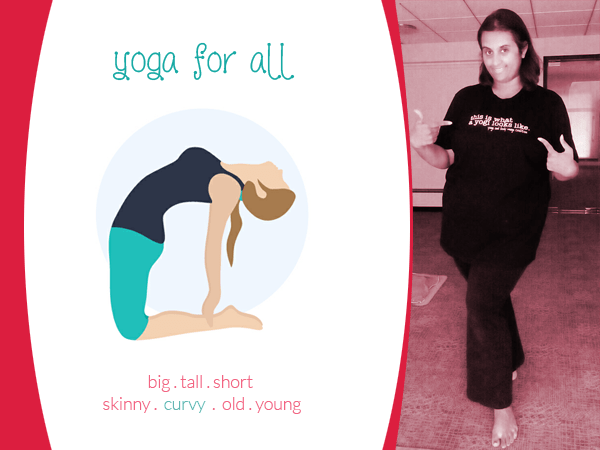 Luvena Rangel is a big, tall and curvy 37-year old yogi (As she said, "Wow! The number just startled me! Time flies when having fun!") and a mom of 3 (aged 12, 8 & 5 years).
When she was asked about her venture – Curvy Yogi, she said, "The Curvy Yogi, is my contribution to the numerous Yoga practitioners who have a fear of yoga (and any fitness perhaps) because of their body size. People come in all shapes & sizes and it is about time we break the myth for practitioners……and yogis.
The Curvy Yogi is not just a concept, it is a myth-buster and an embrace to a shift in society's "admission criteria" of the fitness industry. It is an invitation to everyone – big, tall, short, skinny, old & young, to embrace good health as opposed to the 'perfect' or even 'ideal' height & weight principle that we have all been buying into for so long. The Curvy Yogi, then, was my idea to extend yoga with every possible modification that I can learn, create and re-create for practitioners with larger bodies, physical limitations and even injuries, and help them to live life to their healthiest and happiest!"

Purpose of Yoga in Luvena's Life
When I started years ago, my intention was to simply lose weight. But, with dedicated exposure to the practice, I realized that there was so much more to gain from yoga – a sense of purpose, better health, more presence in my relationships, and just more space for the REAL ME to explore life.
Today, I integrate yoga into my workshops on holistic living, Ayurveda and Mediation. It has given me a financial opportunity to support myself and of course, in every sense of the experience, I feel absolutely brilliant about myself.
Luvena's view on 'Yoga for Weight Loss!'
I lost 28 kgs in 6 months last year without grilling myself and my thyroid that was practically defunct for the past 12 years (I used to take a 200 mcg dosage of Eltroxin), is now completely normal – so, yes, I think all my purposes in taking up yoga were met. No, I do not promote The Curvy Yoga as a weight loss tool – that is not what it is. Excess weight goes away with the right fitness regime and a wholesome holistic and body-positive approach all with a good sense of having fun with the practice – which are the fundamental objectives of The Curvy Yogi programs.
Yoga, for me, is not only for those who already possess "rubberband bodies" as I like to call it, but a very wholesome tool for everyone to learn how to be healthier, more flexible and more balanced.
The message for women out there about self-esteem and body image?
I'd like to remind women that there's no such thing as a "mould" to create perfect bodies. In other words, our bodies are already perfect the way they are. What needs to change is the way we look at our body and love and respect this system that has been with us through our entire life. We are all women with changing bodies, emotions, hormones and life situations and our bodies support us through these phases of growth. In the end, the way we 'think and feel' about ourselves reflects in how we walk & talk with the world around us.
How did you learn curvy yoga? Tell us something about certification courses which you took before taking it up as profession?
I have a background in Human Anatomy and Holistic Health. I also teach Primordial Sound Meditation & Perfect Health Ayurveda as learnt at Deepak Chopra's Chopra Center University in California. I trained to be a Co-Active coach, energy healer and a SAHHEAL Healing consultant. I am a certified Hatha Yoga teacher from a1000 Yoga in Bangalore and I've also learnt Power Yoga, but I feel that the conscious movements of a Hatha practice really help to build stability &strength in practitioners.
When I first hit upon the concept of The Curvy Yogi, I just thought of the name to symbolise my own experience. This was before I realised that there was already a major movement happening in the US, Canada and even Australia (in terms of Curvy Yoga, Body Positivity, Yoga for Round Bodies and not to forget, the Yoga Body and Image Coalition). It was good to know that I wasn't alone. However, I didn't learn Curvy Yoga from anyone.
In all my certifications, yoga has been an undercurrent and has guided my vision and intention to bring yoga for all. A practitioner in a larger body has first hand experiences of the many hurdles that standard instructions fail to address for their larger bodied students!
Everything I teach, every asana I ask my class to perform, I have tried it numerous times in different variations before I have had them included in my class plan. It is important to have empathy and compassion for your students – challenging them, yet holding space for them to explore the practice without shaming them, consciously or unconsciously – and I think all my training in the field of understanding people and myself has really added value to what The Curvy Yogi is all about.
Comments